Beny Steinmetz is Passionate About Education – Investing in Academic Scholarships
Beny Steinmetz is committed to strengthening the educational infrastructure that supports the youth of Israel. Through the Agnes & Beny Steinmetz Foundation, he provides financial backing and support to students – through academic scholarships and programs in after-school centers.
Donating Academic Scholarships
Every year, the Agnes & Beny Steinmetz Foundation donates 125 scholarships valued at 8,000 NIS each to Netanya Academic College students. This initiative requires scholarship recipients to give back to the community by doing volunteer work, focused on facilitating children's programs in the after-school centers supported by the Foundation. The program has been operating for several years, and has awarded over 1,200 Netanya College students with scholarships.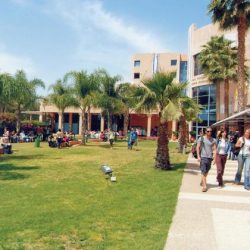 About Netanya Academic College
Netanya Academic College is a multi-disciplinary college with a reputation for academic excellence. It is one of the few colleges in Israel to have been accredited as a higher education institution by the Israeli Government and the Council of Higher Education. Its staff is made up well-respected, senior academics who hold doctorates in their respective fields, and have taught and researched at some of the most prestigious universities internationally.
Supporting After-School Centers
The Agnes and Beny Steinmetz Foundation supports seven after-school centers in the city of Netanya. Hundreds of elementary school children attend these centers and participate in the activities they offer. With the Foundation's sponsorship, the children enjoy a stimulating environment, help with their homework and studies, and a hot meal every day. Recipients of the Foundation's Academic Scholarship help create an enriching environment for the children.